Because I hang out on Twitter on a regular basis - probably more frequently than I should, I have met a ton of independent dyers, spinners, knitters, designers and the like. Two of my favorites are Erica (
@FiddleKnits
) -
Fiddleknits.com
and Lee (
@Leethal
) -
leethal.net
or
leethalknits.com
. Erica is from the East Coast, and Lee is here in Portland. Both have some fabulous designs. Lee just finished up a mystery KAL (that I am about 15 rows behind on...) and Erica is about to start a gorgeous mystery shawl KAL. If you'd like to get in on the shawl action... follow the link! I just purchased her Black Eyed Susie Raglan (as if I don't have enough in progress...) to start for fall. I like short or three quarter length sleeves - I just wear long sleeved under them anyway and they're less cumbersome with additional layers over them once jacket season rolls around.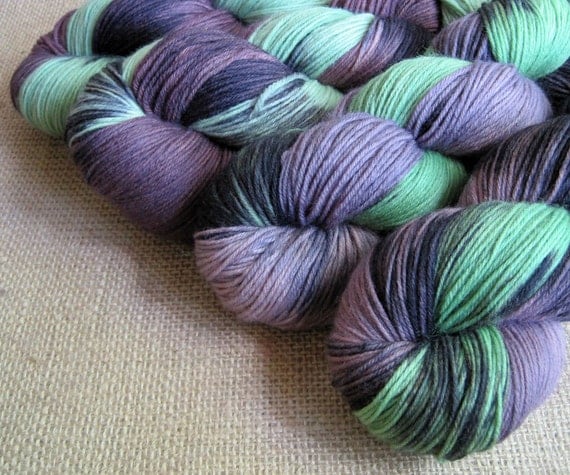 Maleficent yarn (Image via GnomeAcres.Etsy.com)
Other indie picks are (of course) Knitted Wit, and also
Gnome Acres
. I recently put a call out for someone to dye me Maleficent yarn - black, dark purple, lime-ish green... She's always been my favorite Disney villain and I was in the mood. It's going to become fair isle dragon socks! It came out GORGEOUS - and she has so many more cool colors - I'm pretty fairly certain that I need the Aquaman shade as well...
Ahh, the power of the internet... just what every yarnie needs. More ways to access yarn. ;) Who is your favorite indie designer? Dyer?